A line of fine purses, purposeful bags & framed fabric miniatures
"A heart full of love and the feminine divine or....

you can never have too many vulvas."
More than a luxurious Renaissance bag, the Velvet Vulva represents in three-dimensional form
the sacred portal to the feminine temple.
Each has sumptuous fabric labia and a beautiful button clitoris.
A Velvet Vulva might become your everyday bag; it might always stay in a special place; or it might be acquired for particular occasions. (One of the first Velvet Vulvas I made was part of the bridal trousseau of a close friend of mine.)
Naturally, what you put in your Velvet Vulva can have tremendous symbolic and magical significance.
| | |
| --- | --- |
| In whatever way the Velvet Vulva is respectfully employed, it will express and honor the Goddess within and without. | |
As in life, Velvet Vulvas come in various sizes, shapes, and styles.
"You will know when you have found a good fit!"
*************
Price: Velvet Vulva purses begin at about $195. The largest, most intricately structured, suitable for cell, tablet, and more (see below), run about $375. The Velvet Vulva Valentine above (VVV #1), in white silk, is priced at $175. The medicine bags below range from $195 to $225. Since these bags are so individual, the price will reflect the commission. Any bag pictured, or a reasonable approximation of one, may be ordered for the price stated.

*************
Simply note the picture you are looking at, return to the home page, and click on my e-mail address. Send me an e-mail telling me which picture you like and what , if anything, to customize for you!
Purses
The creations pictured here are full length "medicine bags", intended for ritual and ceremony, as well as everyday use as a purse.

White silk from China with gold glitter net ruffle: $195

White Cotton (above): $195

White Silk from China, with pink fringe and very full opening. Also Egyptian print strap with pink satin inner edge. $225

Please Note: As in any purse or Velvet Vulva, you may specify other colors, patterns, etc. For example, you might like this exact bag, but with leopard spot fur instead of white!
Big Capacity Bags
This large-sized purse has a ruby red satin interior, brocade straps, and a body made of luxurious gold velveteen that looks simply sumptuous draped about one's person. The body was designed for durability as well as beauty.
| | |
| --- | --- |
| Velvet Vulva Big Bag: $295 | Additional view |

Another Velvet Vulva Big Bag: $295
This purse has an extremely elegant strap. (All purse straps are adjustible.)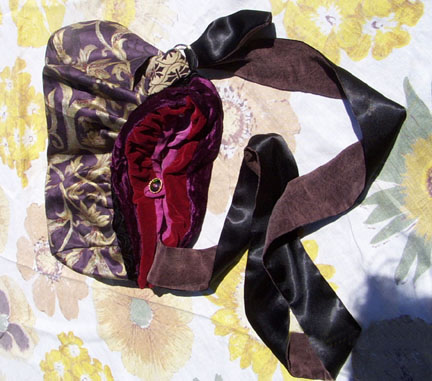 This purse is my favorite new, full-sized Velvet Vulva.


In a case of art imitating life, it has a vertical opening,
with a button closure for security. The body is white,
crushed velvet with a black satin back and the V
trimmed in chocolate brown velvet. The strap may be
black satin ribbon, leopard or egyptian, as seen below.

Velvet Vulva Heart Purse: $225
Another Velvet Vulva Heart Purse, seen above, with an Egyptian print strap: $250
The one-of-a-kind, medium-sized purse seen here has a chocolate brown vintage velvet body. The frilly The V is framed in black velvet with a wave pattern.

The bottom of the bag has a surprise --- a leopard footprint!

Velvet Vulva footprint bag: $255.



The Velvet Vulva pictured here is a very sumptuous purse with the fulsome opening at the top. The inner lips are made with rayon microfiber that feels like washed silk.The roomy interior has a gold floral pattern, but is also practical, sturdy cotton. The closure pulls tight with bead ties and the body is a lovely cream and french blue brocade. In addition, the purse is machine washable! (Delicate cycle)
| | | |
| --- | --- | --- |
| | | Sumptuous Velvet Vulva Toploader$295 |
*************








This item celebrates the day dedicated to love in all its many forms.

Whether given as a gift to a beloved, suspended from a car mirror, or carried about ones person,

the Velvet Vulva Valentine will radiate positive feminine energy year-round.

Velvet Vulva Valentine (VVV #2, above) with brocade body and plum netting: $175

Velvet Vulva Valentine (VVV #3, at right) has a maroon/black cross-woven satin body and a very full opening: $165
Velvet Vulva Valentines with lace and/or leopard trim and pleated, raw silk front
(VVV #4): $175
One of the most elegant of all the

Velvet Vulva Valentines is the gold and black --

(VVV #5)

-- with an ultra-sheer net ruffle: $195

Here is another version of this beauty (VVV #6), all in pinks, with strawberry "fur": $185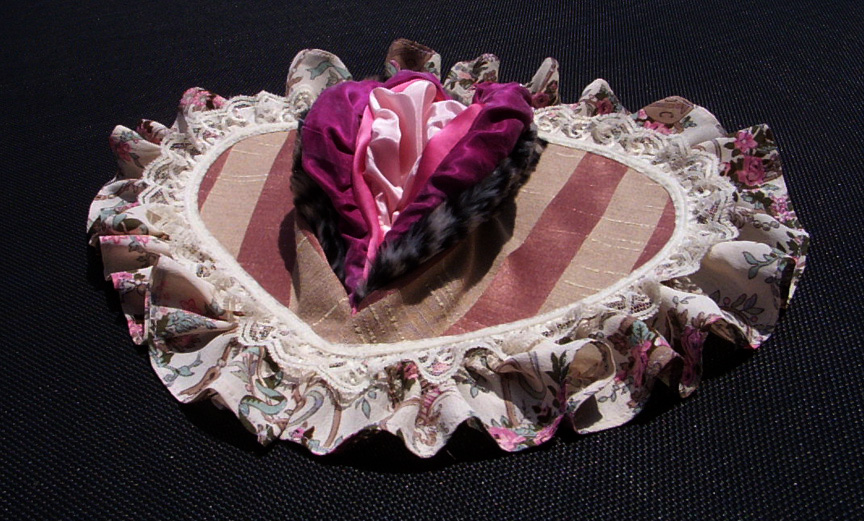 Some Velvet Vulva Valentines have a very sculptural opening, as here, with the floral ruffle (VVV #7): $225
| | | |
| --- | --- | --- |
| Another Velvet Vulva Valentine with a high profile is this one (VVV #8) with the Egyptian print and lace edge: $195 | | |
All Velvet Vulva Valentines, even the smallest, have sacred space within which to place magical items, mementos, or meaningful — appropriately sized — artifacts.

Velvet Vulva Valentines with raw silk and leopard edging (VVV #9): $95

Velvet Vulva Valentine with pleated raw silk and lace edging (VVV #10, on the left below): $125
Fabrics used include crushed velvet (some straight from Paris), silk, incredibly delectable rayon, satin, leopard flannel, and other delights.


Machine washablity is available!

(Indeed, the labia can be reshaped when damp, but not blown dry.)

Persian floral Velvet Vulva Valentine with black fringe (VVV #11): $185

A popular occasion for the Velvet Vulva Valentine is the Wedding Ceremony.
The Velvet Vulva is a perfect place for rings, tokens representing hopes for the union, or other ritual items.
Nuptial Vulvas

Small silk velvet double trimmed bridal Velvet Vulva (VVV #12, above far left): $195

Large silk velvet and laced trimmed Velvet Vulva with white silk ruffle and beaded gathers (VVV #13, above left): $250

White silk Velvet Vulva with lace trim and gold net ruffle (VVV #14, left and above): $225
Velvet Vulva Valentines range in price between $95 and $250 depending on the materials used and the complexity of the design.
****************************************************************




These are the smallest of the Vs, made with brocade or print exterior and luxurious fabric inner parts. Complete with a pearl clitoris, the Pocket V is a heart shape folded in on itself (in a very naturalistic way!) and held together by a loop and button.
Pocket Velvet V (VVV #15): $95
And in its closed, modest state..
.
****************************************************************

This type of Velvet V Valentine has a full, sculptural shape and fabulous leather fringe.
Fringe Velvet V Valentine with southwest pattern body (VVV #16, left): $195
Fringe Velvet V Valentine with bronze body (VVV #17, left): $185
***************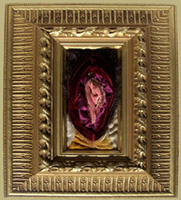 These fabric "paintings" are absolutely one-of-a-kind works of fine art.
Each 3-dimensional Vulva, crafted from the finest velvets and other materials, is mounted in a sumptuous frame. The Miniature GRABS YOU on two levels:
1. What it is:

It is an "in-your-face" image of the Vulva, yet abstracted and ornamental, shocking yet familiar.
2. How it is represented:

It's clearly a framed image, like a painting, which is something we are very accustomed to seeing.

Yet the Vulva isn't flat. It is very sculptural and seen from the side, protrudes from its frame.

These pieces are unlikely to be forgotten by the viewer.
As a gift, the Velvet Vulva Miniature will delight, surprise, and entrance the recipient. It also makes a meaningful addition to any art collection or will beautifully grace the walls of your boudoir.
When ordering, indicate whether you desire a elegant, ornate, or ULTRA-over the top frame, and I will take care of the rest!
The whole Miniature, including frame, is exquisitely small, measuring about 6-12 inches.
Velvet Vulva Miniature
Elegant frame (as seen above, oak frame): $175
Ornate frame with highly detailed Vulva (as seen above, top gold frame): $250
ULTRA-fancy frame with highly detailed Vulva: $350
***************


Please note: Velvet Vulvas are intimate and creative works of art.
No two are exactly alike and fabrics as well as features may vary. Rest assured, however, that you will recognize what you ordered.
When ordering, specify whether you wish any of the following:
hanging loop
machine washability
color preferences
all natural materials (I have ivory organic cotton available)
any other requests
Kindly allow
three weeks
for delivery, after payment is received. (However, if you have a special time frame, communicate with me. I can probably accommodate you.)
Feel free to inquire about special order items, such as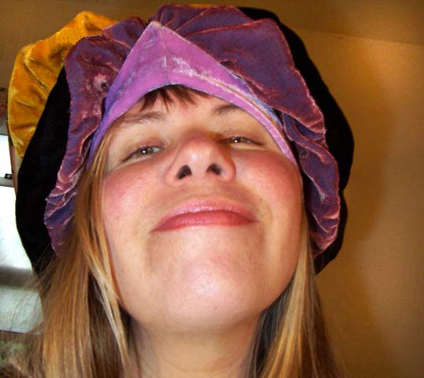 the Velvet Vulva Hat ($350),
the Velvet Vulva G-String, (perfect for wilder parties; I need hip measurement and inseam. ($195)
...and the Velvet Vulva Sleeping Bag...
(a major undertaking.)
---
Back to the main page